Product Description
Pressure SAE6.30  Auto Fuel Line Quick Coupling for Hydraulic Pump
 Material Of Quick Connector
Parts
Material
Supplier
Application
Body
PA12 GF30
ARKEMA
EVONIK
Fuel
PA66 GF30/35
BASF
DUPONT
Fuel Steam
PA6/6T GF25
BASF
 
HT Fuel
PA9T GF30
KURARAY
 
HT Fuel
Locking Spring
PA11
ARKEMA
 
Fuel
PA66
BASF
DUPONT
Fuel, Steam
Securing Ring
PA12 GF30
ARKEMA
EVONIK
Fuel,Steam,Urea,A/C ,          Power Steering System
PA6/6T GF30
BASF
 
HT Fuel
PA66GF 30/35
BASF
 
Fuel Steam
O Ring
FKM/FVMQ/
 HNBR/AEM
HUTCHINS ON
GMORS
Fuel,Steam,Urea,A/C           Power Steering System
2.The design and production
Innovative, secure and quickit , Our quick connect fittings made of synthetic material are suitable for most media carrying  lines . Be it fuel , oil vapor , water cooling and air carrying lines . We offer the idea means of connection . These quick connectors are specially suited to being matched up with the automotive pipe system
 the design and productionof quick connector are strictly accord with SAE J2044-2009 Quick
connect coupling  specification for liquid fuel and vapor or emissions systems . If the product does not meet customer needs , we can design and  manufacture according to customers requirements . plug-in and sel-locking structure enables connect and disconnect more quick  and easier . The space required for the operation is only the width of a finger on both sides . These features ensure quicker connecto  can be high-density arrangement and an increase in customer design flexibility
3.Security of quick connector
Quick connector with double sealing rings radial sealing structure , modified rubber o-rings used , mainly for fluid The physics  chemistry , custom , anti-aging , corrosion , and swelling ;
outer o-rings are separated by the intermediate spacer ring . Coresponding  space on the two
sealing ring , rubber substrate bonding does not occur , the outer synthetic rubber o-rings used , Increased  mechanical properties. preventing air aging . Sealing ring and spacer ring through the outer ring of elastic clamping device securely fastened in Shell will not result in phenomena such as ring falls of , and shift . Great seal security is guaranteed 
4.Working environment of quick connector
Gasoline and diesel fuel delivery systems , Ethanol , methanol or natural gas delivery systems or their vapor venting or  evaporative emission control systems
 
Working pressure
5bar (72psi)
Working pressure
in Vacuum
-0.55bar (-7.2psi)
Working temperature
-40-115ºC ,  short time 150ºC
5.Quick Connector advantages 
· Fast assembly without tool -> time and cost reduction
· robot assembly possible  -> automated processes
· compact building method -> employment in extremely close  installation  conditions possible
· integrated seal – > optimal tightness
6.Quick Connector Applications in the automotive industry
Can be used to make both line-to-line or line-to-equipment connections.
· Fuel feed / return lines 
· tank breathing
· Ventilation lines
· Oil cooler lines
· Vacuum control lines 
7.The Type of Quick Connector
7.1 button
Two button
 
One button
7.2 fir tree
 
The fir tree endform with or without o-ring Connect nylon pipe – pipe size from 3 . 35X4 . 5 to 14 . 35X16 35
Endform with or without rib lines Connect rubber hose ,hose size from ID 3 to 16mm
8.Connect &Discnnect Peration Mathod Of Quick Connector
   Quick connector is made up of body , in o-ring , out o-ring , spacer ring , securing ring and locking spring . When a mating tube end piece inserts the connector , as locking spring has certain elasticity , Tie clip fastener to connect 2 connectors together ,and then pull back to assure complete connection.; Repair or remove the quick connector is difference . first advance push the male connector and press the clip button , lock expansion , you can easily pull out the connector ;please note,SAE 30th heavy oil lubrication should be used before Reseat
Our Fuel Line Quick Connector Catalog
We can produce according to customers' samples or OEM numbers
About us
HangZhou Standards Rubber Products Co., Ltd Is a Highly Professional And Experienced Manufacturer Of Rubber Hoses In China. We Have Specialized In This Field Over 20 Years And Always Dedicated To The Producing Of Rubber Hoses In High Quality, With a Wide Range Of Demands From Multiple Industries, Including Engineering, Ocean, Mining, Chemicals Plastics, Transportation, Oil, Metallurgy,etc.
Our products include:
Rubber Hose:   hydraulic hose , industrial hose, hose fitting
Silicone hose:  food and medical grade silicone hose, auto silicone tube
PVC hose:  PVC layflat hose, PVC Helix Suction & Delivery Hose,
PVC Spiral Steel Wire Reinforced Hose,
PVC Fiber Braided Reinforced Hose
Automotive parts:  A/C Hose, fuel hose,brake hose system 
Our Service
1. OEM Manufacturing welcome: Product, Package… 
2. Sample order 
3. We will reply you for your inquiry in 24 hours.
4. after sending, we will track the products for you once every 2 days, until you get the products. When you got the goods, test them, and give me a feedback. If you have any questions about the problem, contact with us, we will offer the solve way for you.
FAQ
Q1. What is your terms of packing?
A: Generally, we pack our hose in woven package, fittings in carton box. If you have legally registered patent, we can pack the goods in your branded boxes after getting your authorization letters.
Q2. What is your terms of payment?
A: T/T 40% as deposit, and 60% before delivery. We'll show you the photos of the products and packages before you pay the balance.
Q3. What is your terms of delivery?
A: EXW, FOB, CFR, CIF, DDU.
Q4. How about your delivery time?
A: Generally, it will take 10 to 20 days after receiving your advance payment. The specific delivery time depends on the items and the quantity of your order.
Q5. Can you produce according to the samples?
A: Yes, we can produce by your samples or technical drawings. We can build the molds and fixtures.
Q6. What is your sample policy?
A: We can supply the sample if we have ready parts in stock, the customers no need to pay the sample cost but need pay the courier cost.
Q7. Do you test all your goods before delivery?
A: Yes, we have 100% test before delivery
Q8: How do you make our business long-term and good relationship?
A:1. We keep good quality and competitive price to ensure our customers benefit ;
2. We respect every customer as our friend and we sincerely do business and make friends with them, no matter where they come from.
We sincerely welcome partners all over the world to visit us for CHINAMFG cooperation!
Can hydraulic couplings be used in applications involving corrosive or aggressive fluids?
Yes, hydraulic couplings can be used in applications involving corrosive or aggressive fluids, but the choice of materials and design considerations is critical to ensure compatibility and long-term performance. Corrosive fluids, such as acids, alkalis, and certain chemicals, can pose significant challenges to hydraulic systems. Here are some key factors to consider when using hydraulic couplings in such applications:
Material Selection: Choose hydraulic couplings made from materials that are resistant to the specific corrosive fluid being handled. Stainless steel, certain alloys, and corrosion-resistant coatings are common choices for couplings in corrosive environments.
Sealing Solutions: Ensure that the couplings have effective sealing solutions to prevent fluid leakage. High-quality seals and gaskets that are compatible with the corrosive fluid are essential to maintain system integrity.
Chemical Compatibility: Thoroughly assess the chemical compatibility between the hydraulic fluid and the coupling materials. Consider the fluid's temperature, concentration, and potential reactions with the coupling components.
Special Coatings: In some cases, using hydraulic couplings with specialized coatings or treatments can enhance their resistance to corrosion and aggressive fluids.
Regular Inspection and Maintenance: Implement a stringent inspection and maintenance schedule to monitor the condition of the hydraulic couplings and detect any signs of corrosion or degradation. Promptly replace any damaged or worn couplings to prevent fluid leaks and system failure.
Fluid Contamination: Corrosive fluids can lead to the formation of contaminants in the hydraulic system. Implement effective filtration and contamination control measures to prevent particle buildup and system damage.
Operating Conditions: Consider the temperature, pressure, and flow conditions of the system, as these factors can impact the corrosion resistance of the couplings and the overall system performance.
While hydraulic couplings can be used in corrosive or aggressive fluid applications, it is essential to consult with coupling manufacturers or fluid system experts to ensure proper material selection and system design. They can provide guidance on selecting the most suitable hydraulic couplings and recommend additional measures to protect the system from the adverse effects of corrosive fluids.
By employing the right materials, adopting proper maintenance practices, and taking the necessary precautions, hydraulic couplings can effectively function in applications involving corrosive or aggressive fluids, providing reliable and safe fluid power transmission.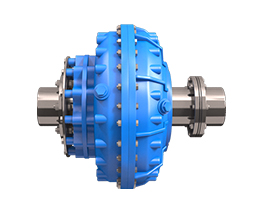 How do hydraulic couplings ensure efficient torque transmission and prevent fluid leaks?
Hydraulic couplings are designed with specific features to ensure efficient torque transmission and prevent fluid leaks, making them vital components in hydraulic systems. These features contribute to the overall performance and reliability of the hydraulic system. Here's how hydraulic couplings achieve these goals:
High-Quality Materials: Hydraulic couplings are manufactured using high-quality materials, such as steel, stainless steel, brass, or other durable alloys. These materials offer excellent strength and wear resistance, allowing the couplings to withstand high torque and pressure loads without deforming or leaking.
Precision Machining: Hydraulic couplings undergo precise machining processes to achieve tight tolerances and smooth surfaces. This ensures proper alignment and mating of coupling components, minimizing energy losses and enhancing torque transmission efficiency.
Sealing Mechanisms: Hydraulic couplings incorporate various sealing mechanisms to prevent fluid leaks. O-rings, seals, or face seals are common sealing methods used in hydraulic couplings. When the coupling components are connected, the seals create a secure barrier, preventing hydraulic fluid from escaping the system.
Leak-Free Designs: Modern hydraulic couplings often feature leak-free designs that minimize the risk of fluid leakage during operation. These designs utilize advanced sealing technologies and tight tolerances to ensure a reliable and durable connection, even under high-pressure conditions.
Threaded Connections: Many hydraulic couplings use threaded connections, such as NPT, BSP, JIC, or SAE threads, to create a secure and leak-resistant joint. Properly tightened threaded connections maintain the integrity of the hydraulic system, reducing the likelihood of leaks.
Quick-Connect Couplings: Quick-connect hydraulic couplings are designed for rapid and easy connection and disconnection, often without the need for additional tools. These couplings use internal valves and seals to ensure a leak-free connection when engaged and prevent fluid leaks when disengaged.
Hermetically Sealed Couplings: In specific applications, hermetically sealed hydraulic couplings use magnetic coupling technology to provide a non-contact, leak-free transmission of torque and power. These couplings have no physical contact points, making them suitable for critical environments or systems handling hazardous fluids.
The combination of these design features ensures that hydraulic couplings efficiently transmit torque from one component to another while maintaining a secure and reliable seal to prevent fluid leaks. This is particularly important in hydraulic systems, where fluid leakage can lead to reduced performance, increased maintenance, and potential safety hazards.
Proper selection, installation, and maintenance of hydraulic couplings are crucial to optimize their torque transmission capabilities and prevent fluid leaks. Regular inspections and replacement of worn-out seals or damaged couplings are essential to ensure the continued efficiency and safety of the hydraulic system.
In summary, hydraulic couplings play a crucial role in efficient torque transmission and fluid sealing in hydraulic systems. Their robust construction, precision engineering, and advanced sealing technologies contribute to the overall performance and reliability of hydraulic machinery and equipment.
How do you select the appropriate hydraulic coupling for specific fluid handling needs?
Selecting the right hydraulic coupling for specific fluid handling needs involves considering several critical factors to ensure optimal performance and reliability. Here's a step-by-step guide to help you make an informed choice:
Fluid Type: Identify the type of fluid that the coupling will handle. Different fluids have varying viscosities and chemical properties, which can impact the compatibility and material selection for the coupling.
Operating Pressure and Temperature: Determine the maximum operating pressure and temperature that the coupling will experience. Ensure that the selected coupling is rated to handle the expected pressure and temperature levels without failure or deformation.
Torque Requirements: Calculate the required torque capacity based on the power transmission needs of your system. Choose a coupling that can handle the anticipated torque while considering safety factors.
Misalignment Tolerance: Evaluate the potential misalignments that may occur between the shafts in your system. Choose a coupling that offers sufficient misalignment tolerance to accommodate these variations without imposing excessive stress on the equipment.
Vibration and Shock: Consider the level of vibration and shock the coupling will experience during operation. Select a coupling that can dampen vibrations and absorb shocks to protect the system components and ensure stable performance.
Installation and Maintenance: Assess the ease of installation and maintenance requirements of the coupling. A well-designed coupling should be easy to install, inspect, and maintain, reducing downtime and maintenance costs.
Environmental Factors: Take into account the environmental conditions in which the coupling will operate. Factors such as exposure to moisture, chemicals, dust, or extreme temperatures may affect the choice of coupling materials and coatings.
Space Constraints: Consider the available space for installing the coupling. Some applications may have limited space, necessitating the use of compact or low-profile couplings.
Coupling Type: Based on the above considerations, choose the most suitable coupling type for your specific fluid handling needs. Consider options such as jaw couplings, disc couplings, fluid couplings, gear couplings, or other specialized couplings based on your application requirements.
It's essential to consult with coupling manufacturers or industry experts if you have specific or challenging application requirements. They can provide valuable insights and recommendations to ensure you select the right hydraulic coupling that meets your fluid handling needs and maximizes the efficiency and reliability of your system.



editor by CX 2023-11-07